When making the shift to vaping, you're not only thinking about which device you want to use but also the juice. Choosing the right juice, also known as e-liquid, can make or break your vaping experience. That's why you must know what you're looking for in a vape liquid.
E-liquids have a couple of factors that make them the best for some people and so-so for others. When you're searching for the perfect juice, keep these factors in mind, especially if you're new to vaping:
1. Flavor
One of the most thrilling parts of vaping is trying out different juice flavors. They're water-soluble and may sometimes have additional sweeteners. Unlike regular cigarettes, vapes come in various flavors ranging from fruity to sweet and complex. So, don't expect vape juices to smell or taste like a particular cigarette brand. (1)(2)(5)
You may feel overwhelmed with the number of flavors you can encounter. When looking for e-liquids, ask the shopkeeper for the popular choices among vapers. Or you can also browse options online like Fume vape flavors that offer various alternatives in different sizes. Many experienced vapers recommend that first-timers try a flavor they're most familiar with to make the transition easier. (1)
2. Type of e-liquid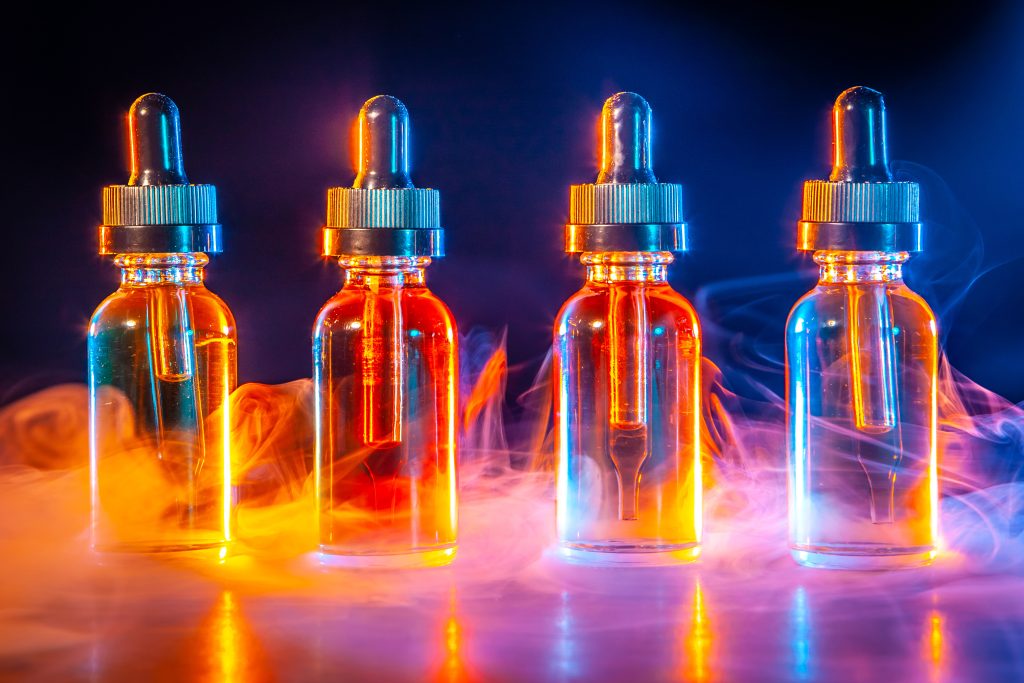 Vape juice contains two essential ingredients: vegetable glycerin (VG) and propylene glycol (PG). VG is a much thicker substance than PG, and the ratio of these two ingredients in your e-liquid may affect its viscosity. The vapors and the "throat hit" depends on how much VG and PG your juice has. (1)
Here's how to know the difference between the two:
VG is smoother on the throat and produces larger vape clouds. It also has a slightly sweeter taste.
PG gives the throat hit some vapers look for in vaping and is preferred by those transitioning from smoking. However, this substance produces smaller vape clouds. (1)(4)
You can have vape juice with either a VG or PG bias or a balanced 50/50 ratio depending on your preference. Your device will also depend on the e-liquid concentrations you choose. Classic coils with more than 1-ohm resistance are suitable for PG-biased juices, while coils with less than that are suitable for VG-biased ones. The 50/50 e-liquids, however, are more popular due to their versatility and suitability for most types of vape kits. (1)
3. Nicotine strength
Some vape juices have varying nicotine levels you can choose from, depending on how much you typically smoke in a day. Heavy smokers often pick ones with the highest nicotine strength possible, around 18mg. There are also 3mg, 6mg, and 12mg variants for casual or social smokers. However, nicotine-free vape juices exist for those wanting to cut back, too. (3)(4)
If you're trying to let go of cigarettes, some vape veterans recommend you to take the nicotine level that matches how much you usually smoke. Using e-liquids with a weaker strength may fail in making you switch to vaping altogether. You may drop levels throughout your experience and eventually prefer nicotine-less vape juices. Just remember that nicotine-free e-liquids may have some side effects if you try them before using ones with nicotine. (3)(4)
4. Bottle type and size
Vape juices also come in different bottle types. Some are glass bottles with droppers, and others are squeezable PET (Polyethylene Terephthalate, or strong plastic) bottles. If you prefer easier refills, travel convenience, and zero spillage, PET bottles are your best bet. But if you like the classy look of glass vape juice bottles, no one's stopping you from getting one of your own. The contents are what's most important after all. (2)
Commercial e-liquids often come in 30mL or 60mL bottles in the US and Canada. However, the UK limits its bottle sizes to only 10mL. The size matters because the smaller it is and the more you use your vape, the more you'll need to refill it. Hence, if you're a heavy smoker, you should choose the largest bottle available. (2)
5. Vape experience
Some people turn to vapes to give up cigarettes. Others use vapes out of fascination. Your choice of vape juice all depends on your purpose of vaping. As mentioned earlier, certain e-liquids have different effects based on their ingredients.
If you're only in it for that smooth throat hit, juices with higher PG content are perfect for you. Starter kits and open pod systems are often paired with these liquids. But if you're the type who enjoys denser vapor clouds to make vape tricks, VG-rich e-liquids will offer this for you. One point to remember is that juices with more VG require advanced vape kits with the battery power to create those clouds. The 50/50 VG and PG content juices are great for those who want a cigarette-style vape. (5)
In Conclusion
It should now be much easier for you to choose the right vape juice with these factors in mind. If you're new to vaping, don't hesitate to ask experienced vapers or the shop staff for extra tips. Picking the best e-liquid will make your vaping journey more worthwhile and enjoyable.
References