As cannabis continues to gain legality throughout the world, more and more people are starting to see head shops, weed paraphernalia, and other smoking accessories crop up. In the early days, cannabis culture used to be constrained to the fringes of society. Most people in the '60s would roll zig-zags or buy a cheap pipe.
However, nowadays, there is a dizzying number of stoner accessories you can purchase. A quick trip to your local head shop will reveal everything you can find, from Rick and Morty pipes to silicone bongs that double as coffee mugs. The sheer number of smoking methods available is enough to throw anyone new to cannabis into a tizzy, and that's not even taking into account all the smoking tools and accessories that come with each method. 
If you want to kick start your stoner accessory collection, it's important to know where to look.
Should I Buy Online or in a Store?
Conventional wisdom will tell you that buying from your local headshop is more reliable than shopping online. After all, there are a few benefits to buying in person:
You can talk to the people working there and find out information on the products;
You can physically hold the products in your hand, instead of having to extrapolate the size and feel of these tools from pictures;
You can pick up the product in-store and don't have to worry about shipping.
While these are certainly advantages that are worth considering, the reality is that online shopping gets a bad rap that is based on a lot of misconceptions. The ingrained idea that online head shops are going to be more expensive, insecure, or full of cheap knock-off items is very prevalent. However, this is only the case for unverified websites. The entire online shopping experience should not be held to the standard of their worst participants. In fact, there are many unexpected benefits to shopping online.
Online head shops have a wider selection of products available and they are more consistently stocked;
Local head shops mark up their prices usually. Online head shops are generally cheaper;
Reputable websites will have detailed products lists to inform you of everything you need to know about each product, often with accompanying articles.
When it comes down to it, buying online trumps buying in person for affordability, options, and information. A lot of the perceived disadvantages of buying online are easily curbed if you have a trusted website that you can purchase from.

The World of Bongs is the One-Stop Online Head Shop
The best online smoke shop is the premier website for all of your cannabis accessory needs. World of bongs, is on the cutting-edge of the cannabis industry and will ensure that you can find anything you're looking for. With a constantly updating library of new and exciting products and superb customer service, people have come to expect nothing less than the best from World of Bongs.
A quick scroll through the World of Bongs Instagram page will reveal a variety of engaging memes and new inventory announcements peppered throughout the page. They have a huge fanbase, boasting 442 thousand followers. Their average post gets thousands of likes and the comment section will reveal people enthusiastically discussing stoner culture with levity and humor.
Part of this engagement has led to fans engaging back, with online reviews. Each specific product on the World of Bongs website has enthusiastic reviews from users. While other websites will use burner accounts and bots to increase engagement and plant reviews, each review on World of Bongs comes with a photo of each user holding the product. That's a level of authenticity and fan engagement few other cannabis websites get.
Affordable and Quality 420 Accessories For Sale
Besides all the cannabis accessories you could ever need, there is a ton of dab accessories for sale. Fan engagement and memes are nice, but when it comes down to it, the most important thing you want from an online head shop is a wide selection of items. World of Bongs has nearly every type of bong, pipe, dab rig, or accessory you could imagine. This is an unrivaled inventory that is constantly adding new items into the fold.
World of Bongs has numerous deals with some of the leading cannabis brands, filling out their library with iconic products from companies like MJ Arsenal, Eyce, Grav Labs, Raw, Stündenglass, and many more. In addition, they have their own line of accessories they make themselves.
Some of their best-selling accessories include vape batteries, bong cleaning solutions, and fun novelty items like the Joint Power Hitter or the Top Puff Bong, which turns any water bottle into a bong! You can also purchase rolling trays, grinders, pokers, adapters, bangers, bowls, downstems, lighters, papers, and any other products you'd be able to find in a standard head shop.
If you're not sure what you are looking for exactly, the World of Bongs website has a blog section that curates lists of different bongs. Articles covering subjects like the best bubbler bongs or rolling trays for sale will give you an easy overview of the products and their unique features.
Cheap And High-Quality Dab accessories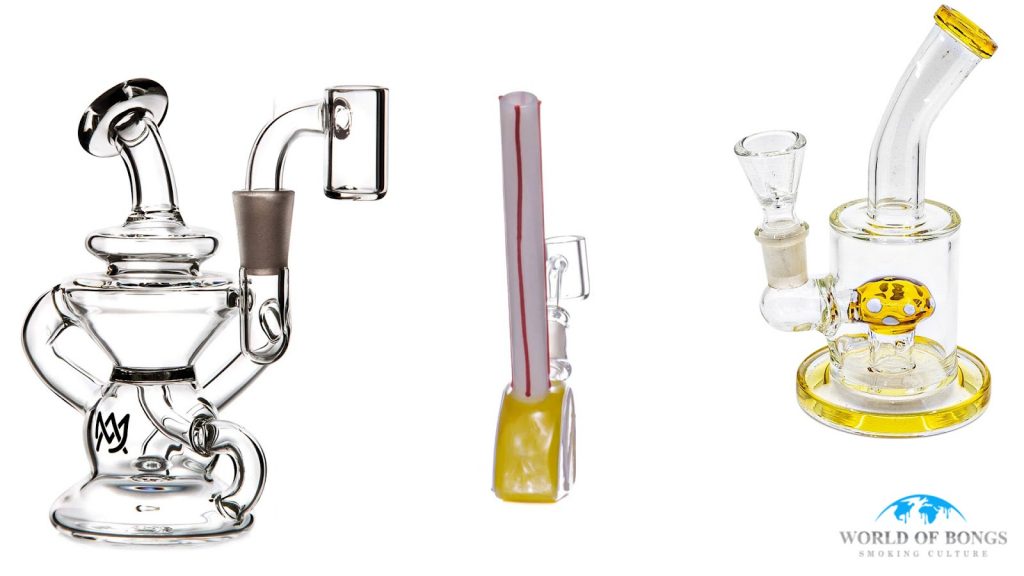 In the drop-down menus for each category, you can find sections that will isolate the cheaper options, with curated lists of Hand Pipes under $40, Dab Rigs under $60, and Bongs $50 and under.
With the sheer quantity of items, you're guaranteed to find a satisfying and high-quality smoking tool that's within your price range. World of Bongs also offers users the ability to set up payment plans through Trello, so they can pay for their products in installments rather than all upfront.
Where Can I Find World of Bongs?
Follow them on their Instagram page here, their Facebook page here, and their Twitter here!