Not one person would want to experience chronic pain, yet it is one of the most common problems among the populace. It keeps someone from doing simple chores, exercising, being efficient at work, and enjoying life. Experiencing pain for months or years significantly impacts mental and physical health, affecting one's self-esteem, confidence, and outlook.
The modern era has changed the world's vantage point on medical marijuana. Nowadays, it's used to treat many diseases as an alternative to conventional medicine. Incorporated in different products, they can be in the form of topical creams, tinctures, oils, inhalers, and skin patches.
The use of medical marijuana in treating chronic pain is a breakthrough for people searching for natural pain relief. Check Marijuana Doctors RX to know more about its effectiveness.
Medical Marijuana
The hemp plant is a cannabis plant usually used to make medical marijuana. It contains a high concentration of Cannabidiol (CBD) – the chemical compound that does not produce a psychoactive effect or a 'high' feeling. Mind-altering effects come from its counterpart substance, the tetrahydrocannabinol (THC).
Since its discovery in the early 19th century, scientists have effectively explored many ways to use it for medical and recreational purposes. They are also used to treat sleep problems, anxiety, depression, nausea, vomiting, arthritis, epilepsy, Parkinson's Disease (PD), Multiple Sclerosis (MS), and Post-Traumatic Stress Disorder (PTSD).
If you're thinking of using marijuana to treat your chronic pain, here are the things you must know:
1. What is the ECS in Human Body?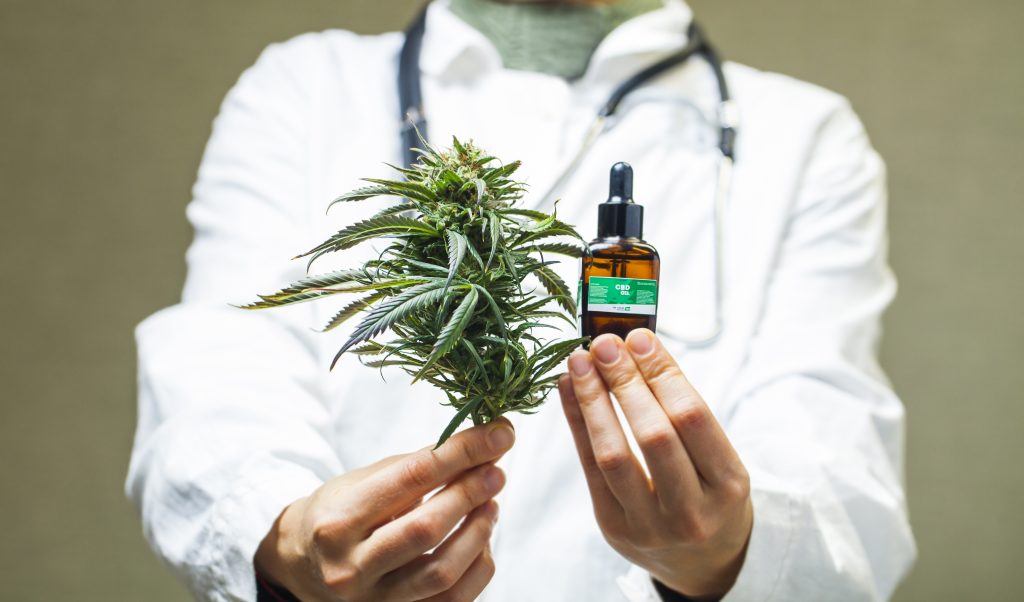 A brief background in anatomy and physiology is necessary to understand how marijuana works in the body. The endocannabinoid system (ECS) was uncovered while conducting studies and research about THC. It plays a vital role in regulating the endocrine, immune, nervous, and cardiovascular systems.
It's a small innate system composed of the neurotransmitter, Anandamide (ANA), and the receptors, CB1 and CB2 of the central nervous system (CNS) and peripheral nervous system (PNS), respectively.
Increased ANA production is linked to exercise activities and enthusiasm when you pursue your career and passion and achieve your desires. The neurotransmitter adheres with the receptors enhancing one's appetite, energy, motivation, mood, and pleasure.
2. How Does Marijuana Work with ECS?
ECS is associated with the mind's ability to store memory, perceive pain, combat stress, and elevate mood and appetite. If the ECS malfunctions due to a condition such as chronic pain, CBD imitates ANA and attaches loosely to the receptors, helping the body to block or alleviate pain.
3. Marijuana in Pain Management
The brain's prefrontal cortex (PFC), which produces glutamate, is responsible for personality traits, emotion regulation, attention, and cognitive control. Its neighboring structure, the reticular formation of the medulla, houses the pain regulatory system.
You perceive pain when the pain receptors (nociceptors) from the pain origin reach the brain via the spinothalamic tract. It's been proven that there are chemical and physical changes in the brain due to chronic pain – leading to chronic stress, irritability, memory loss, anxiety, and depression.
Medical marijuana, such as oils, tinctures, tablets, or capsules, release CBD into the body, inhibiting and controlling pain perception. They can also effectively treat chronic pain and other medical conditions by enhancing the ECS.
4. What are the Adverse Effects of Medical Marijuana?
The adverse effects of medical marijuana are only mild and resolve shorty. You may experience nausea, vomiting, diarrhea, reduced appetite, dry mouth, drowsiness, or general fatigue.
5. What are the Risks?
Medical marijuana is made of natural substances; thus, there are no known overdose cases. If you experience shortness or difficulty breathing, loss of consciousness, or extreme dehydration, seek medical attention immediately.
Individuals are at high risk if they have pre-existing conditions such as hypertension, diabetes, sensation problems, stroke, cancer, or pregnancy. They need medical advice and clearance from a professional before incorporating marijuana into their lifestyle.
6. What is the Proper Dosage?
The proper dosage for marijuana use differs depending on one's body mass index (BMI), height, weight, and condition. It's imperative to seek medical advice and read the label on the package. The key is to adjust and moderately increase the dosage and frequency to what works best for you.
To prevent overdose, write down the dosage used, at what time, and how often you use it. Chronic pain can occur at any time of the day; it's best if you take it in the morning for a painless and productive day.
7. Types of Products You Can Choose From
CBD products are the most commonly used medical marijuana – they can be in the form of oils, tinctures, vaporizers, sublingual sprays, transdermal patches, edibles, topical creams, and lotions.
These products can also be classified according to the number or concentration of components:
Isolate CBD – goes through purification processes where the THC, cannabichromene (CBC), cannabinol (CBN), and terpenes are eliminated. These components create psychoactive effects. The product comes in a pure, crystalline powder with a CBD molecule only. It is highly recommended for people with chronic pain to function well all day at home or work.
Broad Spectrum CBD – has no THC molecules, but there are CBN, CBC, and terpenes. They are effective in oils, tinctures, and transdermal patches, treating pain, acnes, and insomnia.
Full Spectrum, aka whole-plant CBD – contains all substances and a small amount of THC. Its 'entourage effect' makes people prefer this type of CBD product, having the most benefits given by all its components.
8. Choosing The Right Product for Chronic Pain Relief
Many countries worldwide have legalized medical marijuana, either for recreation or medical use. Conduct research and ask for legal or medical advice from professionals in your area before purchasing. Laws may vary, and some products need prescriptions.
The Food and Drug Administration (FDA) has no regulations and laws regarding marijuana products, leaving the responsibility to the buyer. However, the organization allowed studies and research to be conducted to study the effects of medical marijuana further.
Look for a certificate of analysis (COA) upon buying a product; though not FDA approved, the product has undergone clinical trials and been certified by a credible third-party source.
Moreover, products that meet the International Organization for Standardization (ISO) guidelines are highly recommended. Always read the product packaging and find reliable reviews about it.
Marijuana For Chronic Pain
Marijuana can effectively treat chronic pain and improve overall health. Pain can alter the brain chemically and physically, leading to the development of stress, insomnia, anxiety, and depression.
As a natural alternative to conventional medicine, make sure you seek medical advice before using it. Read the labels, instructions, and precautions. Pre-existing conditions and pregnancy can elicit harmful and unpredictable adverse effects on product use.
Furthermore, research the laws and regulations in your area to ensure its legalization.