Medical marijuana (MMJ) use has been increasingly popular nowadays. Since its breakthrough, more studies have been conducted to uncover its potential health benefits. Developments in science and technology have also paved the way for various forms of MMJ products.
Conventional or mainstream medicine is indubitably effective and is usually the physician's primary selection for treatment regimen. However, many elicit adverse effects that hamper the activities of daily living (ADLs) and may lead to health complications such as liver and kidney problems.
Thus, medical marijuana is one of the preferred alternatives for treating different conditions of children, adults, and older people. Because of the known and potential mind-altering effects, only several states have legalized MMJ use. It's still considered illegal in federal law.
In these countries, existing laws regulate this type of treatment. In Virginia, for instance, an MMJ card is issued to qualified patients and clients to avoid misuse and abuse. You may check Rethink-Rx in Virginia for more information.
Legalization of MMJ in Viriginia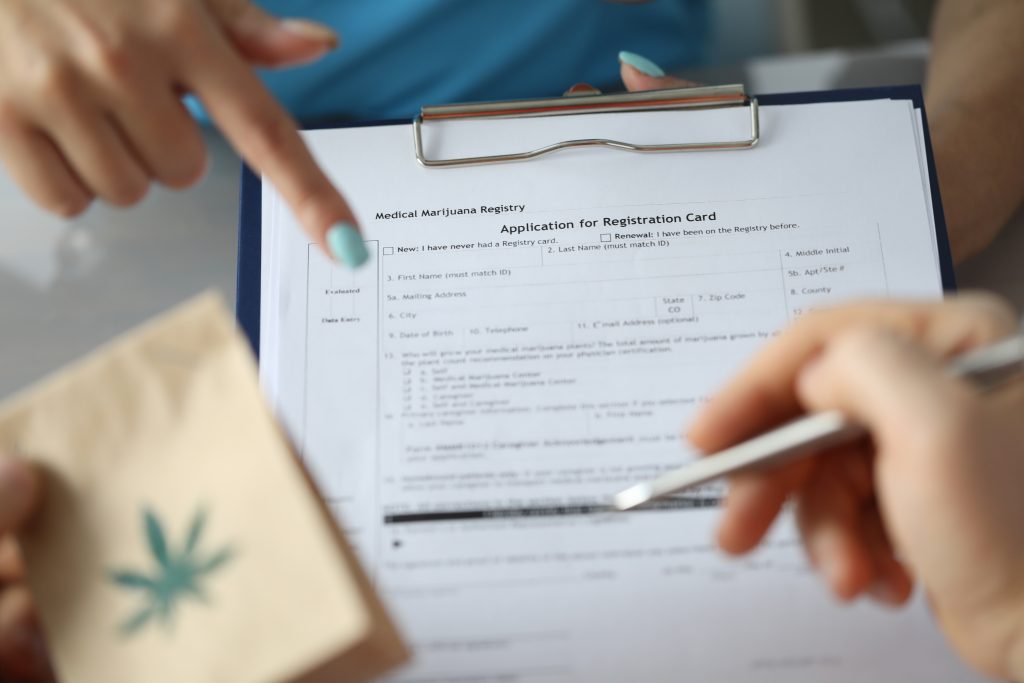 Virginia legalized medical marijuana use in July 2020, while the official ratification for recreational use was issued in the summer of 2021. However, the Commonwealth stated that the retail sales may start in 2024. Until then, medical marijuana cards are mandatory for every purchase. So, you may be interested in applying for an MMJ card.
Well. Look no further. Here's a step-by-step process on how to apply for an MMJ card in Virginia:
Step 1: Get Medical Consultation To Determine If You're Eligible
A licensed and registered marijuana doctor will conduct an intensive medical consultation, including laboratory examinations, diagnostic imaging, and a brief history-taking of your current and prior illnesses and medications. The physician will then determine if you're eligible for MMJ use.
Step 2: Get A Medical Certification
If eligible, the next step is to get a medical certification from a marijuana doctor. It's important to consult only with a qualified physician with a background or specialty in MMJ. You may search for local or online clinics that offer these services.
Only several conditions are medically proven to benefit from MMJ therapy. Thus, a consultation may not fully guarantee that you can get an MMJ card.
Step 3: Fill Out The Application Form And Submit Your Requirements   
Open the online website to register and check all the requirements. You will fill out the application form and be asked to disclose personal information such as full legal name, present physical address, and person to contact in case of emergency.
The medical certificate will be presented to the Virginia Board of Pharmacy (BOP) for verification and approval. You will also need to present Virginia government-issued identification cards such as a driver's license and specific documents that prove you're a local citizen.
Nowadays, you may apply online to a website run by MMJ doctors. These remote agencies can also help you get same-day issuance, so you won't have to wait for weeks.
List of Conditions That May Benefit from Medical Marijuana Use 
The conditions that may benefit from medical marijuana range from neurological, psychological, musculoskeletal, and integumentary problems. Here are the following: 
Acne, rash, and other skin problems
Amyotrophic Lateral Sclerosis (ALS) symptoms
Anxiety
Arthritis
Cachexia
Certain cancer symptoms
Chronic pain problems
Depression
Epilepsy and Seizures
Insomnia and other sleeping disorders
Nausea and vomiting
Muscle spasms
Parkinson's Disease (PD) symptoms
Post-traumatic stress disorder (PTSD)
How Long Can You Use the MMJ Card?
Patients may use the MMJ card to purchase cannabis products in credible stores. It permits a bulk buy for a three-month supply, or you may buy about four ounces every 30 days.
You also have to renew your card annually. In addition, the guardians of the children, mentally unstable individuals, and older patients are also eligible for MMJ cards.
Where Can I Buy MMJ Products?
There are licensed and authorized dispensaries where you can purchase various MMJ cards. Otherwise, it's considered illegal. You must also be aware of fake MMJ medications and other products to prevent harmful health risks and unwanted adverse effects.   
COA Approved and ISO Guaranteed
The Food and Drug Administration only regulates the drug, Epidiolex, used in treating epilepsy and seizure disorders caused by Dravet Syndrome and Lennox-Gastaut Syndrome. The responsibility is given to the buyer's discretion.
However, there are labels you may check to guarantee a product's effectiveness and safety. First is the Certificate of Analysis (COA), a quality control issued by a third-party source. It's approved for the patients' clinical use.
Second is the accreditation with the International Organization for Standardization. This organization analyzes and checks the product's ingredients, manufacturing, and overall safety for consumption or application. ISO guidelines are known worldwide for their accuracy and safety.
Final Takeaway
Medical marijuana (MMJ) use is believed to be an effective and safe alternative to conventional medicine. However, its components may produce mind-altering effects, leading to MMJ misuse and abuse. Laws are implemented to protect the populace's safety in countries that have legalized MMJ for medical and recreational use.
In Virginia, you may search credible websites that offer a package of medical consultations from a trusted marijuana doctor and will help you get your MMJ card hassle-free.