Featured Image Credit: Dabconnection.com
Dabwoods Carts – Once you start smoking weed, then there is no going back. But there is not just one way of rolling joint to enjoy weed and its euphoric effects. Besides smoking a joint, there are various other ways to inhale and consume Marijuana. One such way would be vaping machines.
Many people actually prefer vape machines over smoking a joint for the amount of efforts one has to take to roll a joint.
So, if you are someone who uses a vaping machine, then you might also be aware of Vape cartridges. There are a number of amazing brands out there like Dankwoods, Backwoods, Dabwoods, etc.
Many times, people just confuse these brands of pre-packed cannabis oil carts. All these brands might have their own features but not all of them make a legal choice.
While getting yourself cannabis oil cartridges for vaping machines, if you are thinking of buying Dabwoods cart, then slow down a little and check if the choice you are making is worth it. When you search for buying Dabwoods carts, you will find various options of buying the appealing Dabwoods cart.
If you look them up on Instagram, you will also come across a well maintained Dabwoods page on Instagram.
However, do not fall for this mirage right away. Although Dabwoods seems to be a popular cannabis oil brand that has made some great claims about their products, you need to take a check for yourself. Dabwoods is often confused to be superior because of the similar names with actually popular vape oils like Dankwoods and Backwoods.
If you notice, you will understand how Dabwoods cannabis oil packaging is quite similar to that of the Backwoods carts. Such dubious actions along with no official website simply indicate that the Shady Dabwoods cart needs to be avoided.
If you want to know why you should avoid Dabwoods Cart, then I suggest you to go through the below article to know more.
What is Dabwoods Cart?
Image Credit: Prerollcigarsforsale.com
One of the most suspicious things about any brand or their product is absence of lab tests and their results. If you do not have any idea of what ingredients are being put in the product, then how can you buy it blindly?
The biggest drawback of Dabwoods Cannabis oil is that the products do not have a valid lab test results of the ingredients of the oil they manufacture.
The company has made no effort to put out the test that has been conducted on their products let alone the results. Since Cannabis oil will be consumed by people through vaping machines, it is pretty obvious that it will enter their bloodstream and affect their health. Such a matter of great concern is not addressed by Dabwoods.
The Dabwoods Cartridges do not have any official website. They do have a well-maintained Instagram official handle of Dabwoods and also the packaging of the products looks well thought of and professional but again, the lab results do not show up anywhere.
The brand is only claiming that their product has a THC level of 85% potency. But most users have reported that they definitely need not feel as high.
The worst part in this scenario is that Dabwoods does not have an official website. Rather, Dabwoods Oil can be found anywhere online easily. This further adds to the confusion of the consumer – Are we even buying the real stuff?
If Dabwoods had an official website, they would be able to sell through it and thus there would have been a sense of security among the users.
Why Should You Avoid Dabwoods Cart?
I am assuming that by now you might have understood the issues with Dabwoods cartridge oil. The brand is mostly confused with the popular and well-established brand – Dankwoods. The Dabwoods carts have a packaging similar to that of the Dankwood and Backwoods packaging.
Both Dabwoods and Dankwoods not only have similar names, the business of both the companies of manufacturing and distributing cannabis oil cartridges is same too. This only adds to the confusion. Many people, because of this mess, end up using Dabwoods cart for vaporizers not knowing its ill effects.
However, with Dabwoods, everything seems too suspicious now. The company, although working on a large scale, does not have an official website. This fails to prove its legitimacy to the users. Whereas, it has an active Instagram handle. Apart from this, there is no valid and reliable information available about the company if a user is curious.
The only thing one might find about this company is a piece of cake on the Instagram handle of the company. Even this information does not provide any address or registration number of the company. The only thing listed useful is that the company is based in Los Angeles. That is all.
Any company needs to take its services seriously, especially if something manufactured by them is going to be consumed by people. Dabwoods Oil Carts fail to provide the information about the ingredients used in making the cannabis oil, as well as the lab results for these products and ingredients.
The Dabwoods Carts packaging that is sold online further adds to the complexities that can arise after consuming a Dabwoods product. You do not know who is adding what under this name of cannabis oil. Such adulterated or worse product can have serious negative impacts on your health.
Dabwoods Packaging is Sold Online
The worst thing about Dabwoods is how the company sells Dabwood packaging online. You can easily find the Dabwood packaging on eBay that has empty cartridges. This way anyone can take the packaging and fill these empty carts with any cannabis oil and then sell it by the name of Dabwoods. So, you basically have no idea of what stuff is going into that Dabwoods packaging.
This easy availability of packaging of a brand that resembles popular cannabis oil carts brands like Dankwoods, can lead to any mal practices like adulterated and harmful substances in the packaging of Dabwoods.
This further can be very harmful for your health as you will be consuming the oil through vaporizers. Using a Dabwoods cart that can have anything in its packaging is basically risking your life.
How effective is Dabwoods Cart Cannabis Oil: Review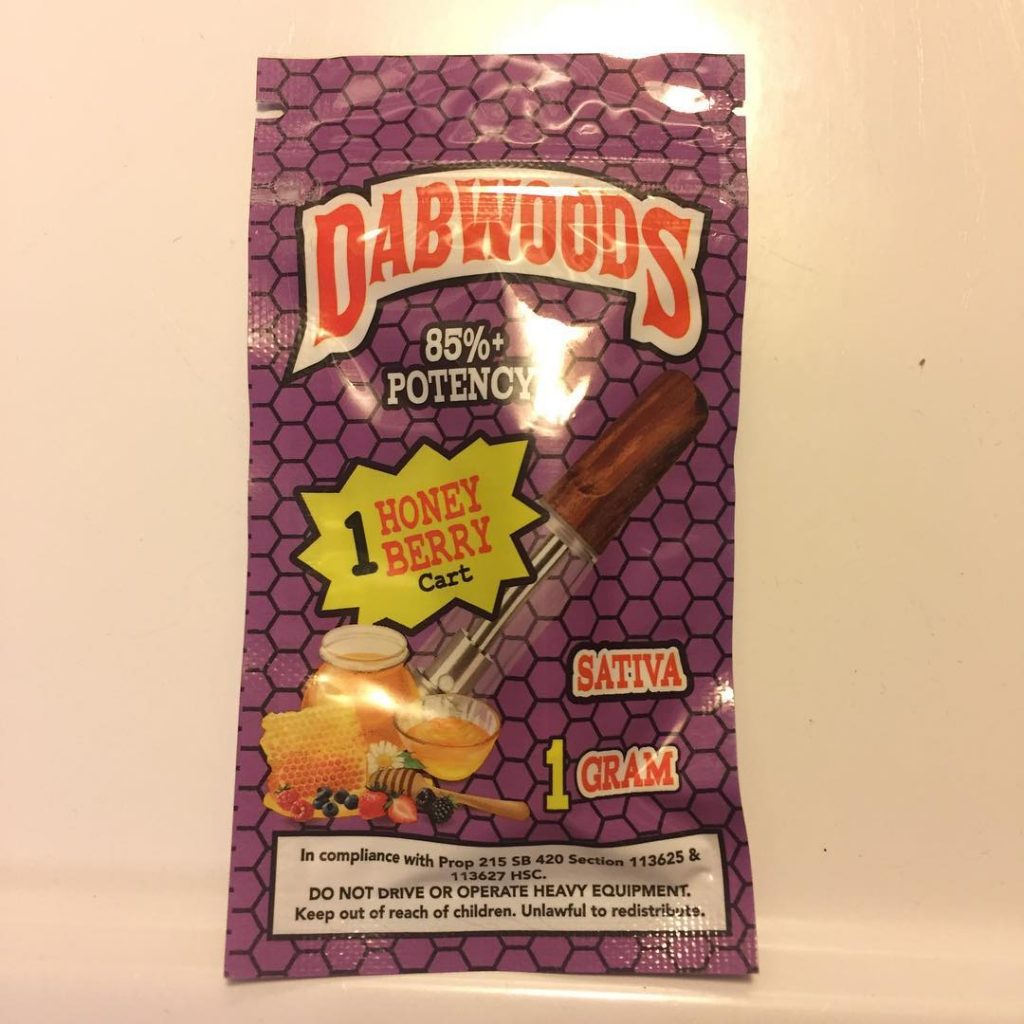 When we talk of the taste, Dabwood has got a good taste but the oil is not as strong as they claim it to be. Plus, there are no lab results at all! When we consider the hardware of Dabwood, it certainly is something good! The ceramic cartridge has a wooden tip and is quite comfortable for the lips. Instead of a clear underneath, the atomizer has a plastic ring.
Overall, the Dabwoods cartridge does give easy hits and soothes. Many people might now think that the wooden tip would affect the taste of the cartridge, in this case, most users reported no change in taste, whereas others did report an oak or wooden like taste. This is a bummer if you like to have the original taste of your weed.
Now coming to the high, Dabwoods claims to offer a strong high with a THC level of 85%. However, majority of the users have reported that they merely felt any high. The high is too less for what the company claims. So, if you are looking for a heavy high, this sure isn't the cannabis oil you need to put in your vaporizer.
If you have been using different cannabis oil carts and vape machines, then you might find the consistency and texture of Dabwoods oil cartridges is slightly off. You will also notice that the color of Dabwoods oil cartridge is actually much darker than that of most high-quality Cannabis oil cartridges.
Now taking into consideration the aroma of Dabwoods Cannabis oil carts, you will get a smooth smoke with soothing vaping experience. But the high is not as much and also does not last for long time. Again, indicating the fact that the high offered is very much less than what is claimed by the company.
Now keeping aside the effects of weed and the high, if you do not know what product is going to go into the online sold empty packages of Dabwoods, then would you even want to try a product that can prove severely damaging to your body and health?
The company freely sells their empty packaging online on websites like eBay. Many Cannabis black market vendors can adulterate and add anything into these packaging.
You may buy and consume it as the Dabwoods company oil cartridges but do you have any idea what and how harmful the content of that package would be? Such Cannabis oil carts can also have pesticides which may prove to be fatal to someone's health.
After taking into consideration all such crucial things like absence of an official website or store, unavailability of lab results, empty packaging being sold online, etc. there is barely any reason why one should go for Dabwoods Carts. We would recommend you to avoid using Dabwoods Carts.
Also, You can read this: 7 Best Ash Catchers for Your Bong or Water Pipe
Advantages of Using Dabwoods Cart
By now you might have understood the negative impacts of Dabwoods and why you should stay away from it. But there are also a few notably good points about Dabwoods, if it's the original one from the company and not anything that is sold in packages that are available on eBay.
· Smooth Vaping experience
· Smooth and great taste
· Well packaged
· Large number of Choice of flavors
· Enough puffs in one cart
· You will feel high after consuming the original Dabwoods product
Disadvantages of Dabwoods Cart
Even if there are a few good things about Dabwoods carts, there are more negative things that can be classified as the cons of using Dabwoods cart.
· No lab results available
· No address of the company is available
· No registration of the company is available
· The packaging is sold online and can thus be adulterated.
· No official website
· No official Store
· Only connection is Instagram handle
· Wooden ring in the hardware can affect taste of the flavor.
· No completely displayed ingredients on the package.
· Lighter high than claimed
Dabwoods Official Flavors
Apple
Vanilla
Banana
Peaches & Cream
Pineapple
Honey Berry
Strawberry
Watermelon
Russian
Grapes
FAQs
Here are some frequently asked questions on Dabwoods Cartridges –
How Strong are Dabwood Carts?
If you are doubting the strength and potency of Dabwood carts, then let me break it to you, Dabwood Carts have a THC level of 85%. However, this is what the company claims. In reality, the high from Dabwoods cart is not as much.
Are Dabwoods Cartridges Safe?
Dabwoods cartridges may or may not be safe. The company sells its packaging online which can be used by anybody, Cannabis black markets to give adulterated stuff in the name of dabwoods. For most of the part and as a precaution, Dabwoods Cartridges are not safe.
Do Dabwood Carts Get You High?
Dabwoods carts definitely give you the high but it is very less. The company claims high of around the 85% THC level does not seem to match the actual high it offers.
What Strain Is Dabwoods?
Dabwoods is a cartridge brand popular for being the first backwoods flavor vape cartridge. You can find Grape Dabwoods with Grape Ape having a memorable strain inclined towards the indica parent.
Concluding Words
I hope you all have found what you were looking for. Dabwoods is not the kind of stuff you would want to put in your system by any means. The Cannabis Black Market is already prospering all around and to add to it such dubious and suspicious companies like Dabwoods are making things more difficult.
How can one trust a company when we know nothing about its Cannabis oil origins, the product test lab results, the address or registration number of the company? If something, then Dabwoods is only making a contribution to the ill practices like adulteration in their online sold packaging.
Many people get confused with the similar names Dabwoods and Dankwoods. Since the later is a popular and well-known cannabis oil carts brand, the former resembles it and creates a mirage of the later.
Dabwoods sells their packaging online on sites like eBay. This can lead to a number of malpractices which further can prove to be harmful for the consumers.
It is only when Dabwoods start their official website and make things like address, registration number, ingredients list, lab test results, etc. transparent, then it will be trustworthy as a brand. Also, the dabwoods cart empty packaging that is sold online on sites like eBay, when stopped then the brand can be considered trustworthy.
But considering the present scenario, it would be better if you just avoid Dabwoods cannabis oil carts. Not only it can be adulterated, but such unknown origins of Cannabis oil in Dabwoods cart could contain harmful substances like pesticides. This can have severe and may be even fatal repercussions.
Hence, if you are paying for something, it at least be safe for the health. There are multiple other and better alternatives to Dabwoods cart oil like Dankwoods Carts.
Do your research before you pick up any cannabis oil cart to know what you are getting into. If you know of any good and reliable Cannabis oil brands, then do share in the comment section below!